Beef and Eggplant Casserole Recipe
This
Beef and Eggplant Casserole
has been a family favorite for dinner for many years. Ground beef and eggplant are prominently featured in this casserole. It's a tomato- based casserole with cinnamon, pine nuts and plenty of melted mozzarella cheese on top.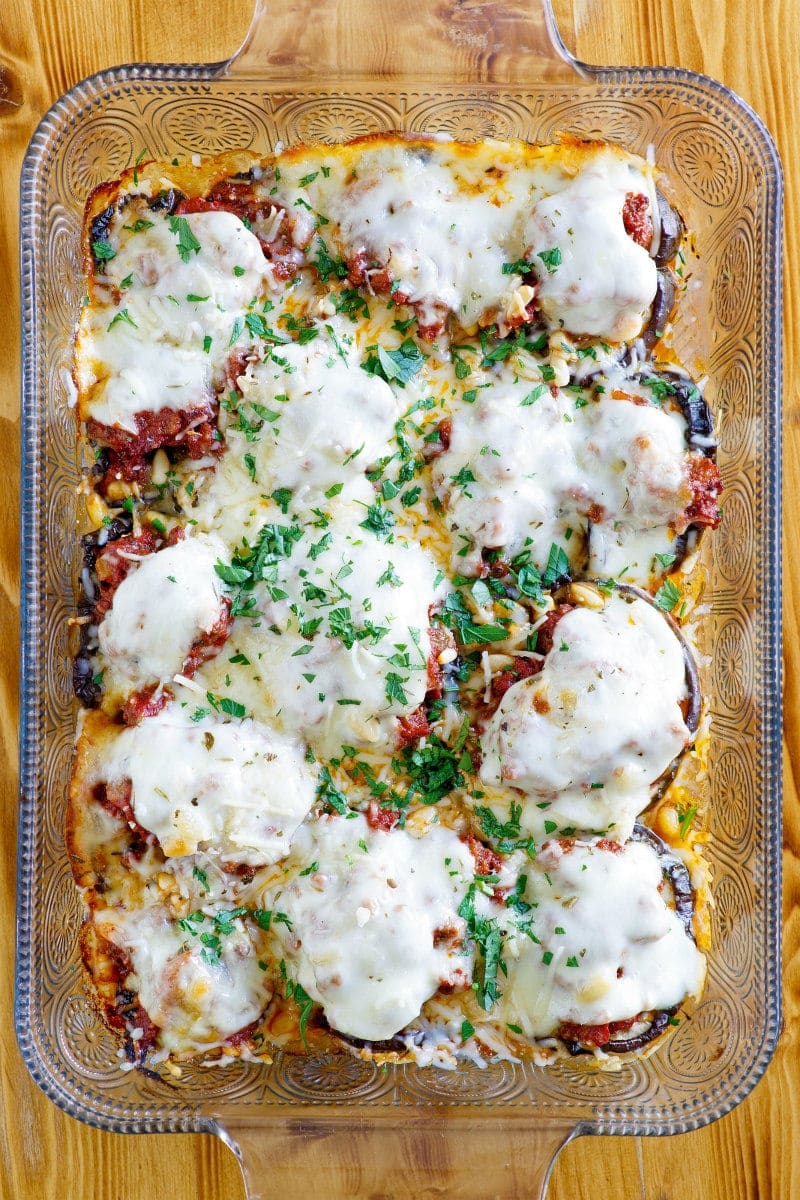 Beef and Eggplant Casserole
Beef and Eggplant Casserole Recipe - This Beef and Eggplant Casserole is tomato based and has plenty of added cheese. Cinnamon and pine nuts are added in to create some unique flavors. #beef #eggplant #casserole #maindish #dinnerrecipe
INGREDIENTS:
3 medium eggplants, (sliced into 1/4-inch slices)
salt
1/4 cup olive oil
1/2 cup chopped onion
16 ounces ground beef
1 medium garlic clove, (minced)
1/2 teaspoon oregano
1 teaspoon basil
1/2 teaspoon ground cinnamon
1 teaspoon salt
freshly ground black pepper
1 8-ounce can tomato sauce
1/2 cup toasted pine nuts
10 slices (8 ounces) mozzarella cheese
1/4 cup shredded Parmesan cheese
INSTRUCTIONS:
Place sliced eggplants into a colander. Sprinkle with salt and set aside for at least 30 minutes to allow salt to draw out excess liquid from eggplant. Pat slices dry on paper towels. Place on greased or nonstick baking sheet and brush with oil using pastry brush. Broil for approximately 4 minutes, or until slices are just browned. Turn slices over and repeat process for the other side. Layer slices in 9×13-inch dish and set aside.
Preheat the oven broiler.
In a sauté pan over medium-high heat, combine the onion and ground beef and sauté until meat is browned. Stir in the garlic, oregano, basil, cinnamon, salt and pepper. Add the tomato sauce. Remove from heat and stir in pine nuts. Cool.
Preheat the oven to 350 degrees F.
Place large tablespoonfuls of the beef mixture on top of the eggplant slices in the baking dish. Places slices of mozzarella cheese over the top to completely cover the beef layer. Sprinkle with Parmesan and bake at 350 degrees for 30 minutes.
Sprinkle with additional Parmesan and serve while hot.
*Try preparing this dish without the beef for a Vegetarian meal.
*Don't skip the first step… it's important to draw the moisture out of the eggplant or you run the risk of your eggplant being soggy.
The post Beef and Eggplant Casserole appeared first on
Recipe Girl®
.