Healthy Chinese Grilled Chicken Salad Recipe
Healthy Chinese Grilled Chicken Salad Recipe - This
Chinese Grilled Chicken Salad
is a good healthy version of chicken salad to eat for lunch or dinner. #grilled #chickensalad #salad #easydinnerrecipe #healthydinnerrecipe #dinner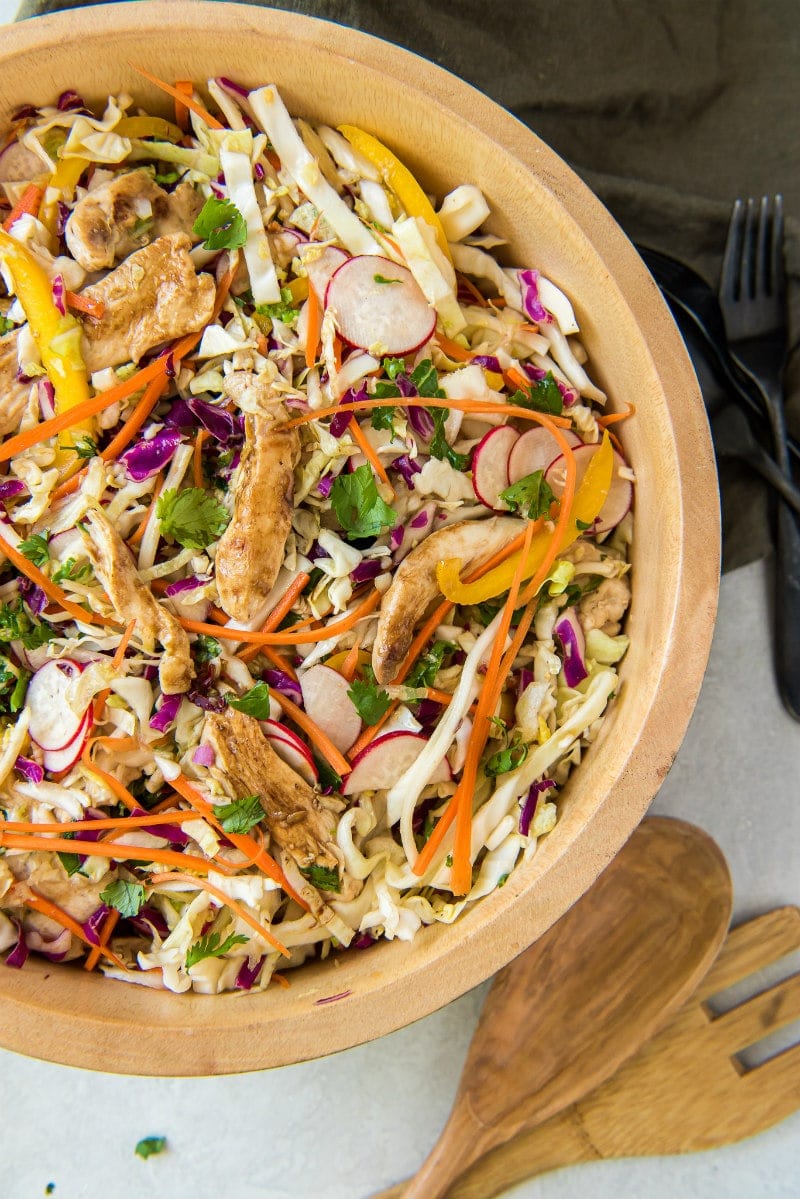 Chinese Grilled Chicken Salad
This salad is a nice, light dinner (or lunch). The simple, tangy dressing gives it the flavor it needs. Be sure to let the salad "marinate" in the dressing for 10 minutes and keep tossing to keep coating it with the dressing.
INGREDIENTS:
16 ounces shredded cabbage ((cole slaw mix))
1 medium yellow bell pepper ((seeded and thinly sliced))
4 medium radishes, (thinly sliced)
1/2 cup seasoned rice wine vinegar
1 tablespoon dark sesame oil
2 teaspoons reduced-sodium soy sauce
2 teaspoons honey
16 ounces thinly sliced skinless, boneless chicken breast
1/4 cup Chinese style or Korean barbecue sauce
INSTRUCTIONS:
In a large bowl, combine the cabbage, bell pepper and radishes.
In a small bowl, whisk together the vinegar, oil, soy sauce, and honey. Pour the dressing over the cabbage mixture; toss to coat, and let stand for 10 minutes, tossing every couple of minutes to re-coat the salad with the dressing.
Meanwhile, heat a nonstick grill pan over medium-high heat. Brush both sides of the chicken breasts lightly with the barbecue sauce. Cook until lightly browned, about 3 minutes. Turn and brush with any remaining barbecue sauce. Cook until chicken is cooked through, about 3 minutes longer. Alternately, you can cook the chicken directly on your outdoor grill (use a saute pan in a pinch). Transfer to a cutting board and let stand for 5 minutes before thinly slicing. Chop the chicken and toss with the coleslaw mix.
7 Weight Watchers Freestyle SmartPoints per serving (recipe divided into four servings)
*Look in the Asian aisle of your market to find sesame oil, soy sauce, rice vinegar and Chinese-style barbecue sauce. This salad derives its distinctive taste from the Chinese-style barbecue sauce, so don't skimp on that! Make sure that the rice vinegar you are using is seasoned rice vinegar.
*If you can't find thin-sliced chicken breasts, place regular chicken breasts between two pieces of plastic wrap and pound it thin with a meat mallet or a rolling pin.
*Use a pan with ridges to get the "grilled" look on your chicken, or use your outdoor grill!
The post Chinese Grilled Chicken Salad appeared first on
Recipe Girl®
.