Lemony Bulgur Chickpea Salad Recipe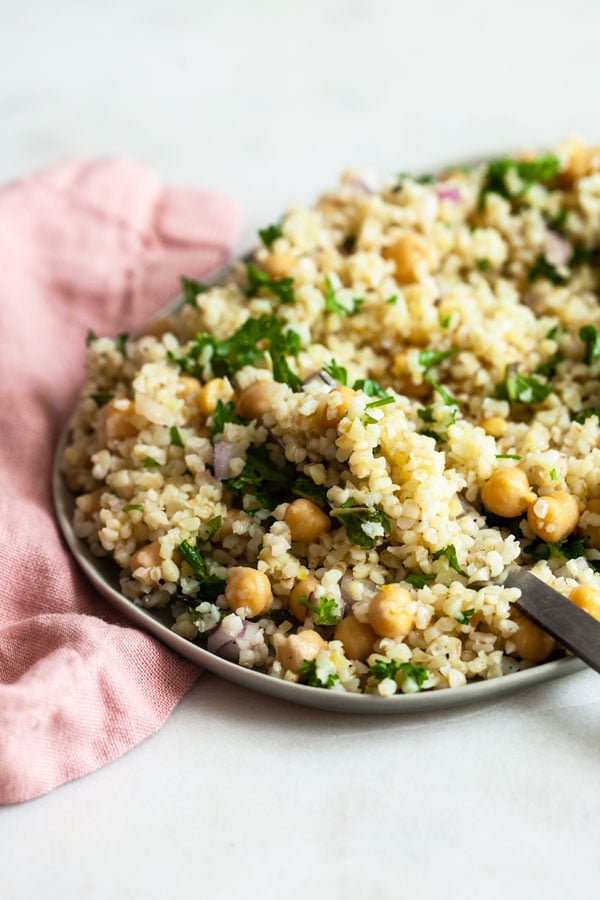 This grain salad is a little piece of proof. It came together last week, on a particularly hot-for-late-May night, when I wasn't quite in the mood for a cooked grain bowl and not quite in the mood for a dinner salad, either. That's thanks in part to the quick-cooking nature of bulgur, and in part to the fact that, no matter what's going on, I always have a can or a frozen container of chickpeas at home.
And so, this. A mix of cooked bulgur, zesty lemony vinaigrette, chickpeas, and herbs. I thought of it on my commute home from work, so I had a chance to pick up the mint. But if you don't have mint, parsley (or parsley + basil, parsley + chives, parsley + dill) will be just fine. And in that case, this meal really is made up of ingredients that many of us are likely to have in your fridge and pantry already.
Because of a few, small, additions that make a significant difference—the fresh herbs, lemon zest, the nice texture contrast of creamy chickpeas and grainy bulgur—the salad registers as a little more special than it sounds. And, as always, it does well with modifications. If raw red onion is too pungent for you (I used only a little for the recipe), you could try chopped green onion tops instead. Once they're in season, add sun gold or grape tomatoes. Or chopped cucumber. Or, if you've got some in the freezer, green peas.
You get the idea. Whatever you do, however you serve this simple gem, I hop you enjoy it.
Lemony Bulgur Chickpea Salad
INGREDIENTS:
3/4 cup dry bulgur wheat (substitute quinoa for a GF version)
1 1/2 cups cooked chickpeas (1 can, drained and rinsed)
1/4 cup finely chopped red onion (optional)
1/3 cup chopped parsley leaves
1/4 cup finely chopped mint leaves
1 tablespoon lemon zest
2-3 tablespoons olive oil (as needed)
2 tablespoons lemon juice
1/2 teaspoon fine salt
freshly ground black pepper to taste
INSTRUCTIONS:
Cook the bulgur according to package instructions. Allow it to cool to room temperature.
Place the bulgur, chickpeas, onion, parsley, and mint into a mixing bowl. Add the olive oil (start with two tablespoons, and add a little more if you like), lemon juice and zest, salt, and freshly ground black pepper to taste. Toss ingredients and adjust lemon and salt as needed. Serve at room temperature or cold, over fresh greens or with a vegetable side. Leftovers will keep in an airtight container in the fridge for up to 4 days.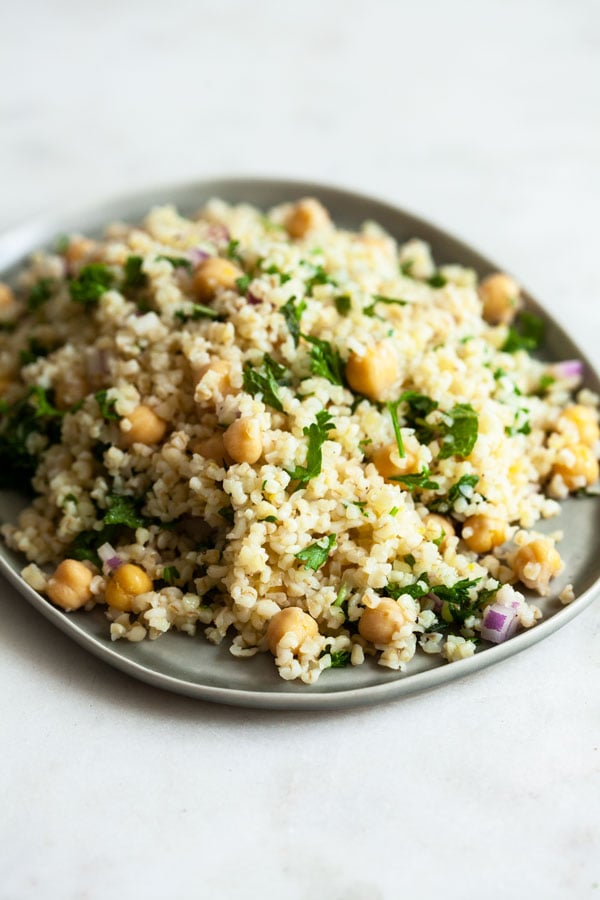 The post Lemony Bulgur Chickpea Salad appeared first on
The Full Helping
.