Simple Baked Bulgur & Chickpeas Dish Recipe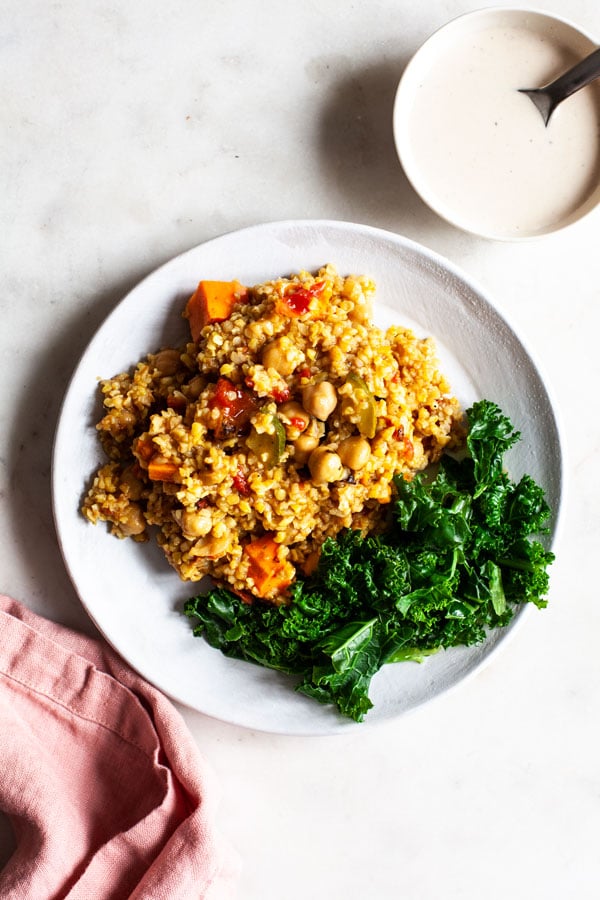 Simple Baked Bulgur & Chickpeas Dish Recipe
Simple Baked Bulgur & Chickpeas Dish Recipe - This dish of simple baked bulgur & chickpeas is rich in fiber, protein, an array of phytonutrients, and it's easy to prepare. Served with a bright, creamy tahini dressing! #chickpeas #dish #bakedbulgur #maindish #easydinnerrecipe
INGREDIENTS:
1 cup bulgur wheat (dry)
1 1/2 cups cooked chickpeas (1 can, drained and rinsed)
1 14.5 ounce can fire-roasted, diced tomatoes
1 small zucchini, chopped
1 medium sweet potato, scrubbed or peeled and chopped (substitute 1/2 lb cubed butternut or other winter squash)
2 cloves garlic, finely minced (substitute 1/2 teaspoon garlic powder)
1 teaspoon ground cumin
1 1/2 teaspoons ras el hanout (substitute 1/2 teaspoon coriander, 1/2 teaspoon ground ginger, 1/4 teaspoon cinnamon, and 1/4 teaspoon cardamom)
1/2 teaspoon fine salt
pinch freshly ground black pepper
2 1/2 cups low sodium vegetable broth
1 batch everyday lemon tahini dressing
INSTRUCTIONS:
Preheat your oven to 375F. Mix all ingredients together in a Dutch oven, a cast iron baking dish with a lid, or any other casserole dish with a lid. Cover and bake for 35 minutes. Remove the lid and bake for another 10 minutes.
While the bulgur bakes (or ahead of time) make the everyday lemon tahini dressing. To serve, drizzle the bulgur generously with the dressing and enjoy!
To shorten cooking time to 25 minutes covered and 5 uncovered, omit the sweet potato or replace it with a faster cooking vegetable (like cauliflower or green beans).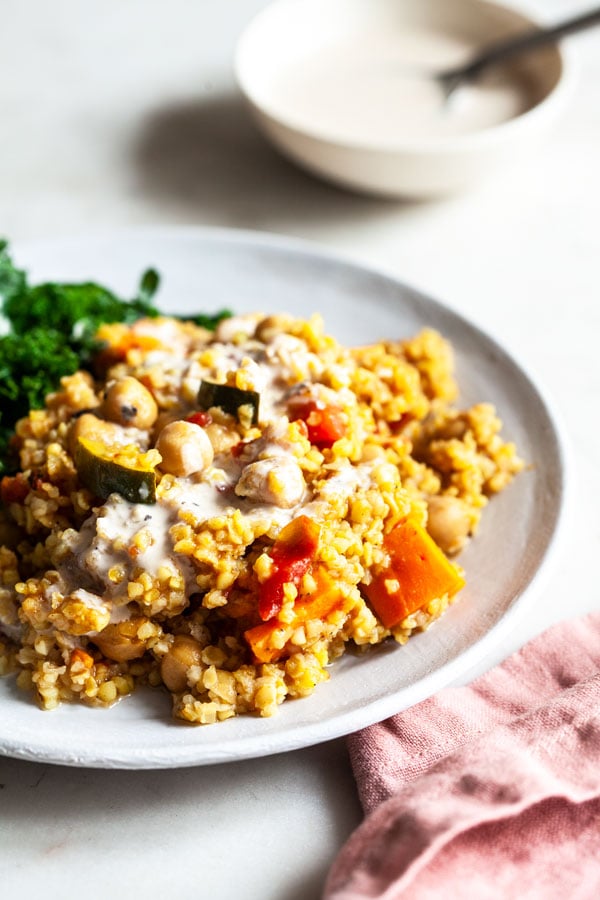 The post Simple Baked Bulgur & Chickpeas appeared first on
The Full Helping
.